Replacing your 250w Halide Bulb (FC2 Base)
Date Published - 18th July 2012 - Published by - iQuatics Ltd
Replacing your 250w Halide Bulb – Instructions
Unplug all power cables that control your aquarium lighting unit from the mains and let the unit cool down completely (Ideal to change the bulbs at the time of day which your halides are not in use, saving you having to disturb the timing of your aquarium lighting.)
Remove your lighting unit away from above your aquarium and place somewhere which will not hinder the process of replacing your bulbs.
Make sure you wipe the new bulb down with a lint free cloth provided. If you touch the glass your hands leave an oily residue. When the bulb heats up this residue can attract the heat from the bulb thus focusing the heat on this spot. Over a short time the temperature can built up and put lots of pressure and strain causing the glass to warm and even crack/smash. In turn this shortens the bulbs life span.
Once the protective UV glass has been removed and you are able to access you old bulb please follow the following steps:
Hold the lamp at both ends making sure that the narrow parts are facing the two connectors.
Make sure there is a secure connection between the lamp and the fitting making sure you don't press too hard as this could damage the bulbs.
Make sure the ballasts have cooled down before you replace the bulb as the new bulb will not ignite until ballasts have cooled down fully.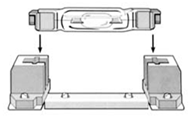 To remove the 250w bulbs, be very careful not to pull the bulb out to fast as the ceramic ends may have become brittle. Wrap your two index fingers around the ends of the lamps and by placing your thumbs on the lamp holder, pull the ends simultaneously.
WARNING:
Make sure the protective glass is securely in place before you plug your unit in and attempt to turn the halide light on.
iQuatics 250w Halide Bulbs