iQuatics World Cup 2014 Sweepstake- How It Works
Date Published - 12th June 2014 - Published by - iQuatics Ltd
World cup fever has hit iQuatics HQ, we can't wait for the tournament in Brazil to get under-way.
We wanted to make things a little more interesting so we have devised a little competition to run alongside the world cup, which gives you the chance to win some awesome iQuatics goodies!
It's really simple,  place an order with us during the world cup and we will send you out a sweepstake code with your order, enter this number into our sweepstake randomiser and you will be issued with one of the 32 teams taking part in this year's world cup, this is a completely random process so you have as much chance of picking a favourite as a team that's not expected to do so well.
As long as your team is in the competition you're in with a chance, when we know the winner, runner up and 3rd place teams, everyone who has been allocated that team will be placed into a draw for one of our fantastic prizes.
We have several  fantastic prizes available to each category, 2 top prizes for 1st, 2nd & 3rd place and 5 runner up prizes where the winner can choose from anything on the second tier.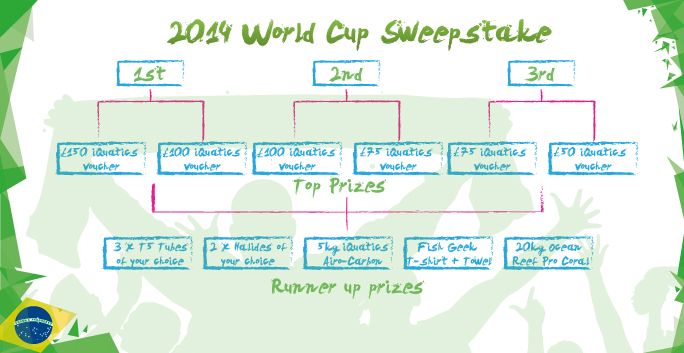 You can follow your teams progress on our wall chart by clicking here : FOLLOW YOUR TEAM
Enter your sweepstake number on this page here : ENTER YOU TEAM ALLOCATION CODE 
*Please note that you may receive a team that has already been eliminated from the tournament, these teams are non-transferable and we will be unable to swap teams for you, this keeps things fair for those that ordered early on in the competition.